National Diploma: Human Resources 
Course: Short Course 
Mode: Online
Study Period: 24 – 36 months 
NQF Level: 5
SAQA ID: 61592
Course Code: HRNDP2OL
Price before bursary: 
R48,600
Price after bursary:
R29,160
R880
per month
[over 33.1 months]
Registration fee:
R1,850 
Human Resource Management is one of the most popular fields of study in South Africa today. Far from just being the management of people, Human Resource Management is ultimately designed to maximize employee performance in line with their employer's strategic objectives.
According to Deloitte's 2014 global survey, companies cite four issues pertaining to HR matters as the most urgent: Leadership, Retention & Engagement and Reskilling and talent acquisition. Career analysts forecast that the number of Human Resource positions will increase dramatically in the future. This makes Human Resource Management a much sought after qualification.
This 2-year online course is directed toward individuals already working in the HR field who want to advance their career through a formal qualification. It endeavors to provide students with an in-depth understanding of the HR Framework, and theoretical and practical knowledge to actively participate in the HR environment. Upon successful completion you will be able to implement your company's Human Resources strategy, perform the Human Resources related duties of industrial relations, employment equity, administration, management and skills development.
This NQF aligned and SABPP accredited course consists of 9 modules including:
Module 1: Labour Relations
Module 2: HR Management
Module 3: Fundamental Comm 3
Module 4: HR Administration
Module 5: Team Management
Module 6: Business Management
Module 7: Legal Framework
Module 8: Workplace Education
Module 9: Skills Development
Study period: 24 – 36 months   
Academy of York students will receive continuous information and support, over and above the prescribed course material, to assist students achieve in their studies. Students will have 24- 36 months to complete this qualification.
Assessment and Award
This qualification will be assessed by means of 9 Summative Assessments and one written Centralised Final Integrated Summative Assessment. Students must have achieved a competent grade in all 9 Modules before they may attempt the written Centralised Final Integrated Summative Assessment. Exam venues are available in all major South African cities (please contact us for specific venues and dates.) Fees for the Centralised Final Integrated Summative Assessment are not covered within the course fee. The current SABPP fee is R1,350 and is subject to change. A final mark of 65% is required before the National Certificate can be awarded
A completed, SAQA aligned HR FET Certificate with 140 credits at NQF L4.
Should you not have a HR FET Cert, A student must have 2 years actual working experience within a Human Resources Environment. Their HR duties should include 4 or more items from the following list: recruitment, training, letters of employment, dealing with resignations, remuneration packages, dealing with labour relations and unions, disciplinary hearings, occupational learning programs, skills development, employee inductions, manage individual and team performance, accountability, employee wellness, writing business emails / letters, statistics and reports, analyse HR data, understand business and financial concepts, payroll, benefits admin.
This course is accredited by SABPP, South African Board for People Practices. The SABPP is a SAQA recognized professional body and regulates statutory quality and standards for People Professions.
Academy of York is accredited by FASSET SETA, SAIOSH, SABPP, PMSA, COMENSA and the Institute of Certified Bookkeepers (ICB) and is registered with the QCTO as a Private College.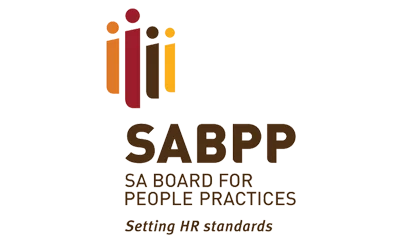 What our past students said
"A.O.Y has been amazing over these past two years I was doing my Certificate in Human Resources Management. With all the help from my student advisor and others, I managed to get 93% on my final mark. All the A.O.Y staff are more than willing to help, therefore, I recommend A.O.Y to anyone wishing to study correspondence or online. Thank you so much A.O.Y. I will be doing my Diploma with you next year."
Thenjiwe Tshuma
"The great thing about online learning for me is that it keeps me motivated, as I need to find time in my busy life to study and complete the course. I am loving this challenging course and I feel rewarded for continuing my studies with A.O.Y."
Madelein Smit